Wine Bottle Stoppers, Bottle Stoppers & Pepper Mills.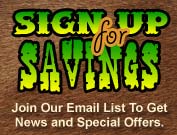 Woodwork is a true craft. The durability of products made from wood can't be beat or compared to any other type of material. If you are looking to add to your collection, or buy every day products, you have come to the right place. We offer a wide variety of products that have all been handcrafted out of wood.

Exotic Savannah Wood Works is a premier supplier of wood bottle stoppers and wine stoppers. Wine needs a few accessories and we are happy to be able to provide these to you. We handcraft and design wine bottle stoppers and bottle stopper disply racks that have been made out of exquisitely turned exotic woods. These stoppers are beautiful and completely functional.

We also create wooden bowls, wooden Lazy Susan's, salad bowls and serving bowls. Our exotic woodworking is like no other. We take our time with each piece we create. We have a vision in mind and then we get right to work at making that piece perfect before putting it up for sale for our customers. Our wooden turntables are a true piece of art and are also very quiet and sturdy.

Thank you for visiting the website of Exotic Savannah Wood Works. We hope that you will see the passion and creativity we put into each product we create. The quality of work we provide is like no other. We offer beautiful wood bottle stoppers, wine stoppers, wood turntables, wooden bowls and wooden Lazy Susan's. We sand down each product we make for safety and they wash great. Please feel free to contact us about our products. We look forward to hearing from you.
Exotic Savannah Wood Works
carries many different styles of
exotic wine bottle s

toppers

, pepper mills and many other handcrafted wood items. If you prefer unique one of a kind
wood bottle stoppers that can easily be gripped and removed from the bottle. Should you have an idea of a special wood craft in your mind that you just can not find anywhere, contact us (click here to contact us.)