Click to enlarge image(s)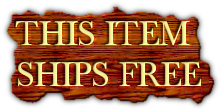 These picks were developed for a local band by request. The picks performed so much better than regular plastic picks that I decided to share them. The picks are the same size and thickness of standard guitar picks so there is nothing to get used to. When playing for an extended time or when hands are sweaty it keeps the pick firmly in position. The wood guitar picks last longer than traditional guitar picks and produce a better sound and feel according to tests by musicians. In my experience any musician that has tried wooden picks has been instantly hooked. Give them a try.
Wood: Purpleheart is a beautiful wood prized for its deep purple color. It is a very dense wood providing no flexibility, but the thickness can be adjusted either way. If this is not the pick for you check out my other designs.

| | |
| --- | --- |
| Natural Wood | Creates a Rich Tone |
| Natural Wood | Beautiful Rich Bass Sounds |
| Natural Wood | Elimates any Brassy Tones |