RETAIL: $282.00
Click to enlarge image(s)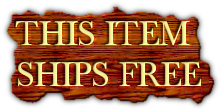 This Beech wood salad bowl set comes with one 17-inch wooden serving bowl, six 7-inch wooden side bowls, and one set of 14-inch wooden utensils. All items in this set have a dark finish.
This set is 10% off the regular retail price if each item were purchased separately.

Note:
All prices in US Dollars
FREE USA SHIPPING ON ORDERS OVER $75.00
14" Rustic Square Oak Walnut Wood Lazy Susan
Beautiful handcrafted American made wooden Lazy Susan turntable. Great table decor shows awesome wood grains any way it is turned.
15.5" Knotty Pine Wood Lazy Susan
Beautiful rustic 15.5 inch wood lazy Susan turntable, hand made by USA craftsman. Beautiful wood patterns with knots on Lazy Susan's.
3D Lazy Susan 13 inch Oak, Walnut and Cedar
Beautiful 13 inch 3D wooden lazy Susan. wooden lazy Susan handmade in USA made.
4 Wine Glass Bottle Holder Cherry Wood
Wine glass holder fits over wine bottles. Give this novelty gift, with a bottle of wine and 4 glasses for weddings, anniversaries or any celebration.
Air Force Medallion Pen Holder with Pen
Air Force Medallion Pen Holder makes a unique gift idea.
Air Force Valet Box
Unique Air Force Valet box. This valet box can become a family heirloom. Excellent gift idea for Air Force personnel.
Army Medallion Pen Holder with Pen
Unique Army Medallion Pen Holder makes an excellent gift.
Army Valet Box
The Army Valet Box handmade. This is a awesome Army Box. Unique gift for all Army personnel.
BAGEL SLICER
Wooden bagel slicer lets you slice bagels safely with a bread knife ensuring perfect cuts every time.
Exotic Wood Cutting Boards
Rare wood cutting boards 12x7 ON SALE, multiple woods make up this cutting board.
Heart Shape Cheese Cutting Board
A unique heart shaped cheese board, heart shape made of purple-heart and cherry woods. Excellent serving or cheese cutting board for a great gift.
Marine Valet Box
The Marine Corp Valet Box. This is a beauty USMC desk Box.
Military Urns Solid Walnut
Air Force, Army, Marines and Navy cremation urns, holds up to 250 cubic inches.
Mountain Ring Redwood, Sterling Silver Wedding Band
American made exotic handcrafted wood ring, handmade from Tulipwood. Beautiful exotic wood ring.
Navy Valet Box
Navy valet box made in the USA. Or a beautiful Navy desk Box.
Pearl Naval Anchor Twist Pen Blue Silk Mica
Classic Navy writing pen.
Submariners Dolphin Pen
Navy Submarine in pen makes a great Christmas gift.
Wedding Goblet Set
Beautiful unique Laburnum wood wedding toasting goblets. 2 inch bowl and stand 8 inches tall.