RETAIL: $282.00
Click to enlarge image(s)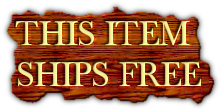 This Beech wood salad bowl set comes with one 17-inch wooden serving bowl, six 7-inch wooden side bowls, and one set of 14-inch wooden utensils. All items in this set have a dark finish.
This set is 10% off the regular retail price if each item were purchased separately.

Note:
All prices in US Dollars
What are legal crooks? Politicans? Lawyers?