Click to enlarge image(s)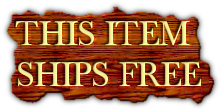 This saucy little French maid may not be the best guardian for your wine as she has been known to partake of the fruit of the vine a little bit too much! Still, I think she's completely adorable! She was made using old wooden baubles inherited from my grandmothers, can you tell her hat is a wooden candle cup? We have a lot of fun finding new uses for some of that old stuff, and I hope you like the result as much as I do!

This wine stopper measures 5" tall.

Wooden topped wine bottle stopper with Fifi, the saucy French maid.

* One of a kind
* Original
* Affordable
* Great gift or stocking stuffer
* Cute!

OTHER WADE SERIES WINE STOPPERS