Lasts a Life time
Click to enlarge image(s)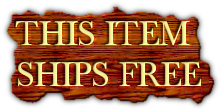 Uniform, natural White Ash color. VERY handsome grain and color. Hand rubbed, waterproof poly finish. Top is approx 1" thick and spins on a heavy-duty, low profile base. Total height is approx 2".
MORE LAZY SUSANS


daffy_e0.gif / 15k
Note:
All prices in US Dollars
What are legal crooks? Politicans? Lawyers?