Click to enlarge image(s)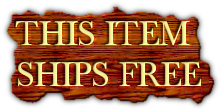 A great gift for yourself or a friend who appreciates fine wine. Now you can display your favorite wine corks in a useful table top Trivet. For years we collected corks from our favorite wines, but could never view them because they were hidden away in a bag or drawer somewhere.
I made one for our own use and find it a useful item for hot dishes at the table. I am now making these for others from Oak. This particular size was requested by a customer and is perfect for the larger size casserole dishes. The size is 1 1/2" high by 8 5/8" X 15 3/4", and interior is 7 1/8 X 14 1/4"
"SEVERAL CUTS ABOVE THE REST"
I sculpted the sides to add a little style, and cut some nice little feet into the bottom edge. There is a suggested layout for your corks with instructions. (No Corks are Included with Kit). Not just an oil finish either, but a two coat durable poly finish for years of style and beauty!!
Note:
All prices in US Dollars
FREE USA SHIPPING ON ORDERS OVER $75.00