American Made
Click to enlarge image(s)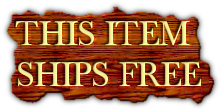 This wine bottle stopper is from the Wade Stopper Series by Sharon and Richard Wade. These beautiful high end bottle stoppers are Handmade in the USA, one at a time.

A different, Genuine Cabochon is used on each Wine bottle stopper. There are no two alike. Making them a real collectors items.

This finished wine stoppers wooden body is Bocote wood, measured at 1-3/4". The body will vary slightly due to being hand lathe turned individually. The Cabochon is a beautiful 20mm (approx 3/4") Paua Shell dyed Gold highlighting the wood grains. Finishing off these bottle stoppers is a solid stainless steel droplet with silicone rings keeping the stopper securly in place. They measure 1/4" larger in Diameter, and 7/8" longer than most bottle stoppers.

Each unique bottle stopper comes with display case, information fact sheet and what part of world the specific wood came from.

Note:
All prices in US Dollars
Donald Trump is a waste of Time. Vote Him out of office!!!!!!!!
4 Wine Glass Bottle Holder Cherry Wood
Wine glass holder fits over wine bottles. Give this novelty gift, with a bottle of wine and 4 glasses for weddings, anniversaries or any celebration.
Air Force Medallion Pen Holder with Pen
Air Force Medallion Pen Holder makes a unique gift idea.
Air Force Valet Box
Unique Air Force Valet box. This valet box can become a family heirloom. Excellent gift idea for Air Force personnel.
Army Medallion Pen Holder with Pen
Unique Army Medallion Pen Holder makes an excellent gift.
Army Valet Box
The Army Valet Box handmade. This is a awesome Army Box. Unique gift for all Army personnel.
English Walnut Click Ballpoint Stratus
Unique English ballpoint stratus pen design that has unique pen balance.
Exotic Wood Cutting Boards
Rare wood cutting boards 12x7 ON SALE, multiple woods make up this cutting board.
Heart Shape Cheese Cutting Board
A unique heart shaped cheese board, heart shape made of purple-heart and cherry woods. Excellent serving or cheese cutting board for a great gift.
Majestic Squire Praying Hands Christian Pen
Crosses On Calvary Elegant Sierra pen makes a christian gift idea during Christmas, pastors and deacons love ink pens.
Military Urns Solid Walnut
Air Force, Army, Marines and Navy cremation urns, holds up to 250 cubic inches.
Mountain Ring Redwood, Sterling Silver Wedding Band
American made exotic handcrafted wood ring, handmade from Tulipwood. Beautiful exotic wood ring.
Navy Valet Box
Navy valet box made in the USA. Or a beautiful Navy desk Box.
Pearl Naval Anchor Twist Pen Blue Silk Mica
Classic Navy gift writing ballpoint pen.
Submariners Dolphin Pen
Navy Submarine in pen makes a great Christmas gift.
Wedding Goblet Set
Beautiful unique Laburnum wood wedding toasting goblets. 2 inch bowl and stand 8 inches tall.