Click to enlarge image(s)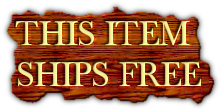 This wine bottle stopper is from the Wade Stopper Series by Sharon and Richard Wade. These beautiful high end bottle stoppers are Handmade in the USA, one at a time.

A different, Genuine Cabochon is used on each Wine bottle stopper. There are no two alike. Making them a real collectors items.

The finished stopper wooden body is Bocote, measuring 1-3/4". The body will vary slightly due to being hand lathe turned individually. The Cabochon is a beautiful 20mm (approx 3/4") Cabochon is Tigereye
matching the wood grains. Finishing off these bottle stoppers is a solid stainless steel droplet with silicone rings keeping the stopper securly in place. They measure 1/4" larger in Diameter, and 7/8" longer than most bottle stoppers.
Each unique bottle stopper comes with display case, information fact sheet and what part of world the specific wood came from.

Note:
All prices in US Dollars
What are legal crooks? Politicans? Lawyers?